Fantasy Bridal has been taking care of and making brides feel beautiful for over 35 years. Fantasy Bridal offers a unique and comfortable experience for their brides to find their dream dress. Our locally owned store carries an extensive collection of dresses curated for the Utah bride. Our unique collection features sizes ranging from 00 to 32.
Consultants are trained to work with individual brides to create a personal and stylized experience. In addition to a wide selection of gowns, Fantasy Bridal provides bridal accessories including veils, headpieces, jewelry, and garters to help brides complete their look. Fantasy Bridal also offers expert, on-site alterations to provide consultations, fittings and quotes for our Fantasy Bridal Brides. When planning ahead, we can save you spot in our alterations closer to your wedding/bridal date to ensure the best fit. Our seamstress schedule is subject to availability, but we always provide a list of additional seamstresses available to help you at any time.
**Every gown purchased in-store includes a FREE pressing, detailing, bead-check and cloth bridal bag**
For brides that have purchased their wedding dress through us: By handing out your referral cards with your name on it to brides potentially looking for a wedding dress, the bride receives $50 towards her accessories and you are on your way to earning 100% of your wedding dress back (excludes alterations and sales tax).

Brides must purchase a wedding gown in order for you to receive credit. We keep track of each bride that purchases with a referral to keep it easy and stress free.
Rewards:
1st Bride that has purchased, you get 2 FREE movie tickets
3rd bride that has purchased, you will get $50 back
6th bride that has purchased, you get an additional $200 back
8th bride that has purchased, you get 100% of the price of your wedding gown (does not include previous $50/$200, alterations or tax).
---
Bridal Accessories

In addition to a wide selection of gowns, Fantasy Bridal provides bridal accessories to help the bride complete her look. These accessories include slips, veils, headpieces, jewelry, garters, and bras. By having everything available at our store, you won't need to shop anywhere else, and instead, you can save time and energy to plan and enjoy your wedding. Even if you have not purchased your wedding gown through us, you can still choose from our large selection of bridal accessories. Call to book a "Finishing Appointment", where we will help finish styling your wedding day look. After the wedding, the bride can bring her gown, veil, and headpiece to our store to take advantage of our heirlooming service designed to preserve wedding day memories for a lifetime.
---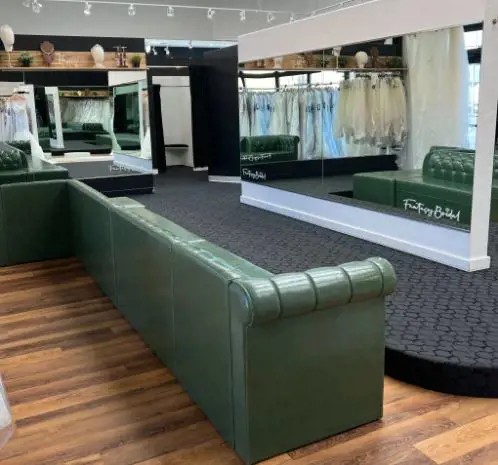 Appointments are required so that our expert staff can provide each bride with the attention she deserves during her 90 minute appointment. We will take walk-ins if our staffing allows for it, but we do not let brides try on gowns without a consultant.
We are unable to help a bride if she does not have the allotted time. The last thing we want a bride to feel is rushed when choosing her dress for her special day.